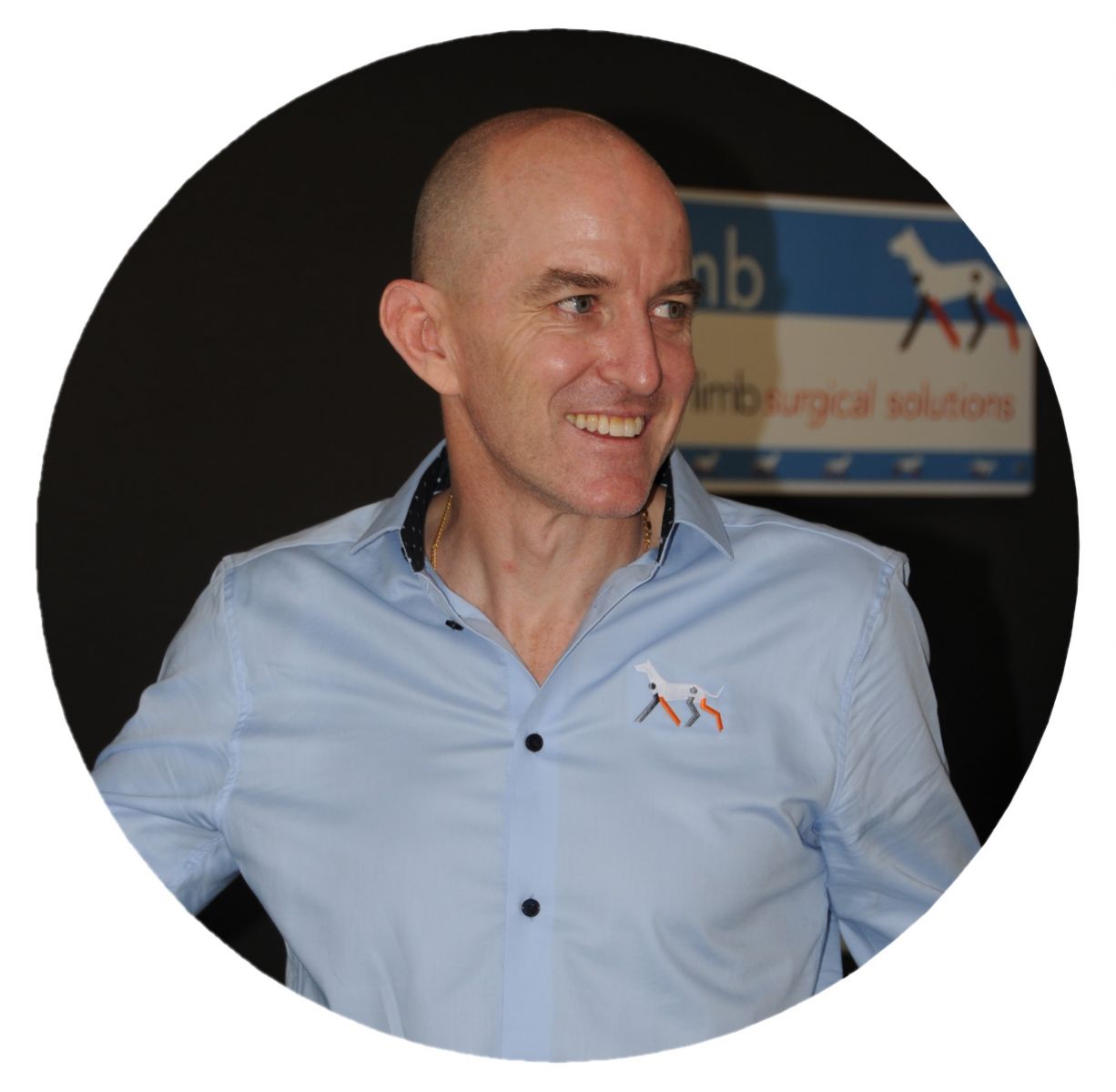 Dr Sebastian Menzies BVSc - Fourlimb Director
Wearing an oversized facemask, cap and gown, in a scenario which probably wouldn't be allowed today, Sebastian had his first introduction to the OR at the age of eight in a small country hospital watching, over many hours his Father, a general surgeon, perform operations. The distinct memory of the surgical equipment, most vivid, the wire and handle used to remove varicose veins is still fresh today.
With surgery in his blood so to speak, it was around this same age that Sebastian decided to become a veterinary surgeon instead.
Sebastian graduated from Massey University in New Zealand as a Veterinary Surgeon in 1996. During 24 years in private practice his veterinary career took several twists and turns and gained him a wealth of practical experience before founding what has now become Fourlimb Surgical Solutions in 2013.
His first job involved mixed animal work which included treating Guernsey cows—tethered by a rope around the horns to a stake in the ground—on small farms with drystone walls on the Island of Guernsey. From there it was to the mud and barns of South West of England where wearing a shirt and tie (even when calving) was compulsory, then onto the dust and baking sun of South Western Australia. In Australia mixed practice developed to become 100 per cent small animal practice with a surgery focus.
It was through striving to become a better surgeon and attending surgical courses that the idea to start Fourlimb was born. With the considerable support of Mark Cunliffe (the founder of Orthomed) we started distributing surgical supplies and running training workshops in 2013.
Sebastian is in the unique position of having first hand experience using the products that Fourlimb supplies and continues to perform surgeries at local practices around Perth. Hosting CPD courses and attending many surgical meetings and conferences ensures he continues to stay up to date with latest in veterinary medicine. Fourlimb's workshops offer a good opportunity to meet and train vets and he is committed to providing ongoing support to those he encounters.
He has fairly limited spare time but, when he does, his wife Susannah and their three children are prioritised, as are outdoor pursuits. He is a rock-climbing enthusiast, something he shares with the rest of the family, and this involves both indoor and outdoor climbs as well as competition. He is almost nearly there in his quest for the perfect espresso, from roasting the green beans through to extraction... He continues to cling to his formative roots mountain biking and now watching (not playing) rugby.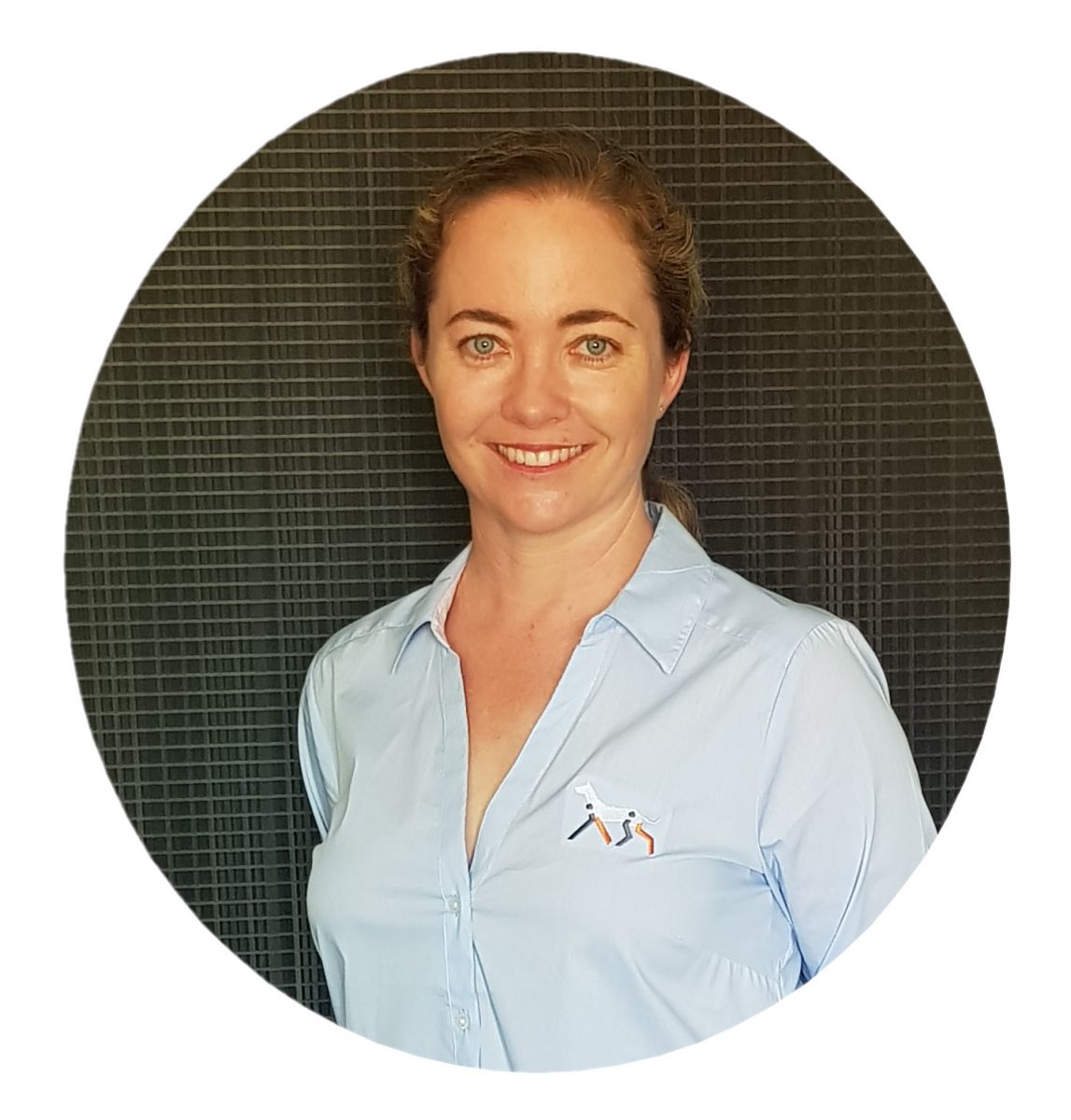 Susannah Menzies
As Sebastian's wife and mother to their three high school-age children, Susannah splits her time between work in the business and family tasks.
With a Journalism degree and previous employment in marketing, Susannah helps organise workshops, trade shows and events. She also manages Fourlimb's social media and is involved with the business' other marketing initiatives. She brings to the business several years' experience in event organisation and enjoys her involvement in trade shows and workshops and the opportunity to meet the vets and nurses we deal with.
She has a beady eye for grammar and challenges anyone to spot spelling errors or typos in any published Fourlimb material!
Outside of work she enjoys the contortions of yoga and pilates, reading and strapping Taco the chihuahua into his bike basket for a ride.
She is also the office eco-warrior and is always on the lookout for more sustainable practices within the business.
Chris Whitson
Chris is the newest addition to the Fourlimb team, having joined us through an internship in early 2020. Any orders you receive are likely to have been cheerfully picked and packed for you by Chris who also helps out with an impressive range of other administrative tasks.
Whilst he is a newcomer to the veterinary industry, his background experience in hospitality and retail has helped hone his customer service and organisation skills.
In his spare time Chris is a keen gamer and takes care of his adopted kitten Zeus.
His positive, can-do attitude has made him an invaluable staff member and we're not entirely sure how we managed without him.
Our Mascots
Winnie the whippet and Taco the chihuahua are good buddies belonging to the Menzies family. They take it in turns to visit the Fourlimb office and occasionally compete for coverage on our social media pages. As a one year old Taco exudes fun and enjoys excellent health. He has a very strong den instinct and takes all his found treasures to his beloved bed. He was born with just one dewclaw which our daughter fell in love with and has refused to allow Sebastian to remove.
Eight year old Winnie has a stately cat-like presence and stuns folk with her architectural body shape. She uses ninja stealth to sneak onto couches and beds and refuses to lie on bricks or spikey grass. Unfortunately she has suffered from meningitis-arteritis from an early age. It is a steroid-responsive condition and we figure she has found the right family with Sebastian as her Dad Vet.