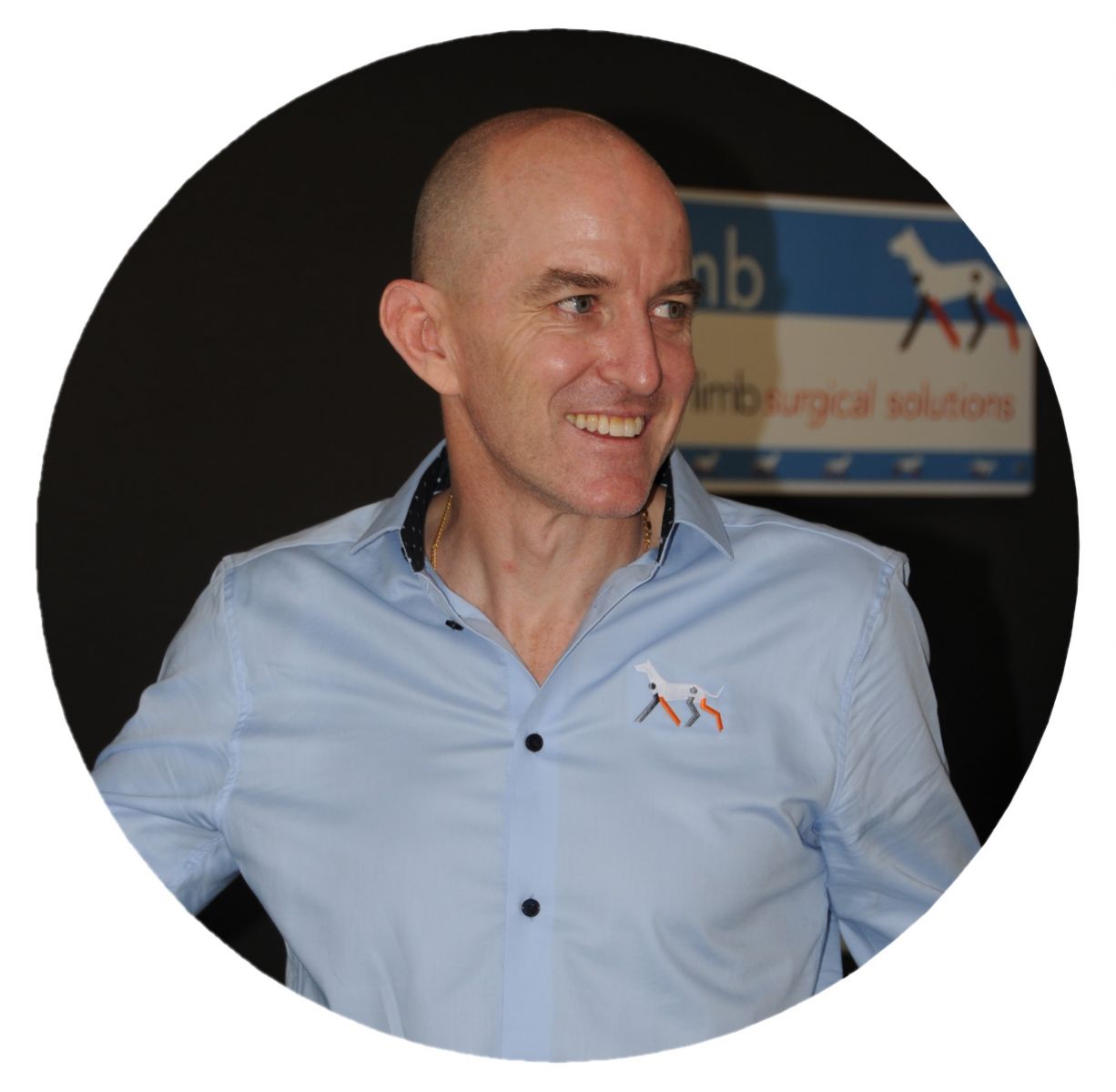 Dr Sebastian Menzies BVSc
Fourlimb Director
Wearing an oversized facemask, cap and gown, in a scenario which probably wouldn't be allowed today, Sebastian had his first introduction to the OR at the age of eight in a small country hospital watching, over many hours his Father, a general surgeon, perform operations. The distinct memory of the surgical equipment, most vivid, the wire and handle used to remove varicose veins is still fresh today.
With surgery in his blood so to speak, it was around this same age that Sebastian decided to become a veterinary surgeon instead.
Sebastian graduated from Massey University in New Zealand as a Veterinary Surgeon in 1996. During 24 years in private practice his veterinary career took several twists and turns and gained him a wealth of practical experience before founding what has now become Fourlimb Surgical Solutions in 2013.
His first job involved mixed animal work which included treating Guernsey cows—tethered by a rope around the horns to a stake in the ground—on small farms with drystone walls on the Island of Guernsey. From there it was to the mud and barns of South West of England where wearing a shirt and tie (even when calving) was compulsory, then onto the dust and baking sun of South Western Australia. In Australia mixed practice developed to become 100 per cent small animal practice with a surgery focus.
It was through striving to become a better surgeon and attending surgical courses that the idea to start Fourlimb was born. With the considerable support of Mark Cunliffe (the founder of Orthomed) we started distributing surgical supplies and running training workshops in 2013.
Sebastian is in the unique position of having first hand experience using the products that Fourlimb supplies and continues to perform surgeries at local practices around Perth. Hosting CPD courses and attending many surgical meetings and conferences ensures he continues to stay up to date with latest in veterinary medicine. Fourlimb's workshops offer a good opportunity to meet and train vets and he is committed to providing ongoing support to those he encounters.
He has fairly limited spare time but, when he does, his wife Susannah and their three children are prioritised, as are outdoor pursuits. He is a rock-climbing enthusiast, something he shares with the rest of the family, and this involves both indoor and outdoor climbs as well as competition. He is almost nearly there in his quest for the perfect espresso, from roasting the green beans through to extraction... He continues to cling to his formative roots mountain biking and now watching (not playing) rugby.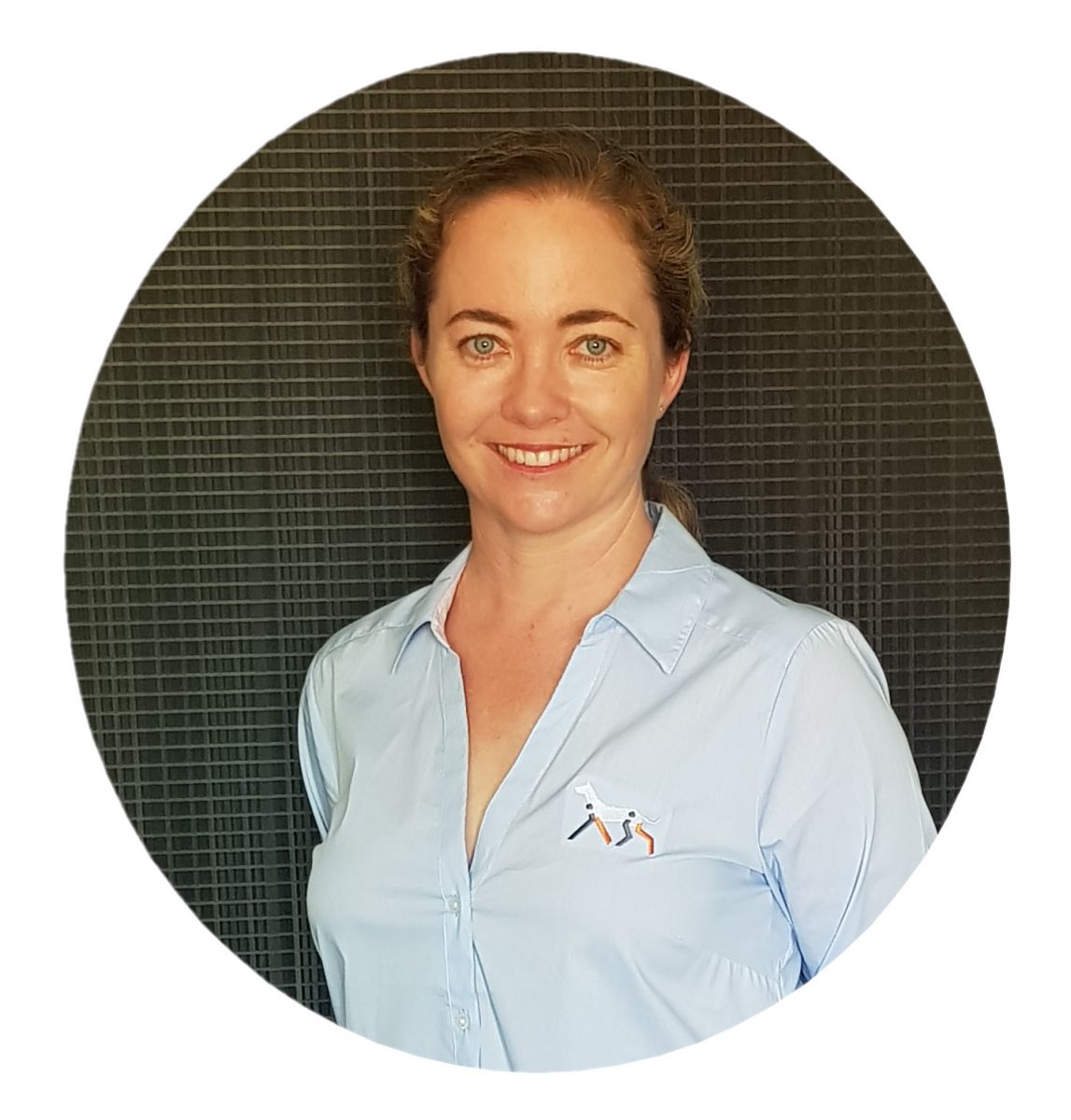 Susannah Menzies BA (Journalism)
Events Management
As Sebastian's wife and mother to their three teenagers, Susannah splits her time between work in the business and family tasks.
With a Journalism degree and previous employment in marketing, Susannah helps organise workshops, trade shows and events. She also manages Fourlimb's social media and is involved with the business' other marketing initiatives. She brings to the business several years' experience in event organisation and enjoys her involvement in trade shows and workshops and the opportunity to meet the vets and nurses we deal with.
She has a beady eye for grammar and challenges anyone to spot spelling errors or typos in any published Fourlimb material!
Outside of work she enjoys fitness classes, reading and strapping Taco the chihuahua into his bike basket for a ride.
She is also the office eco-warrior and is always on the lookout for more sustainable practices within the business.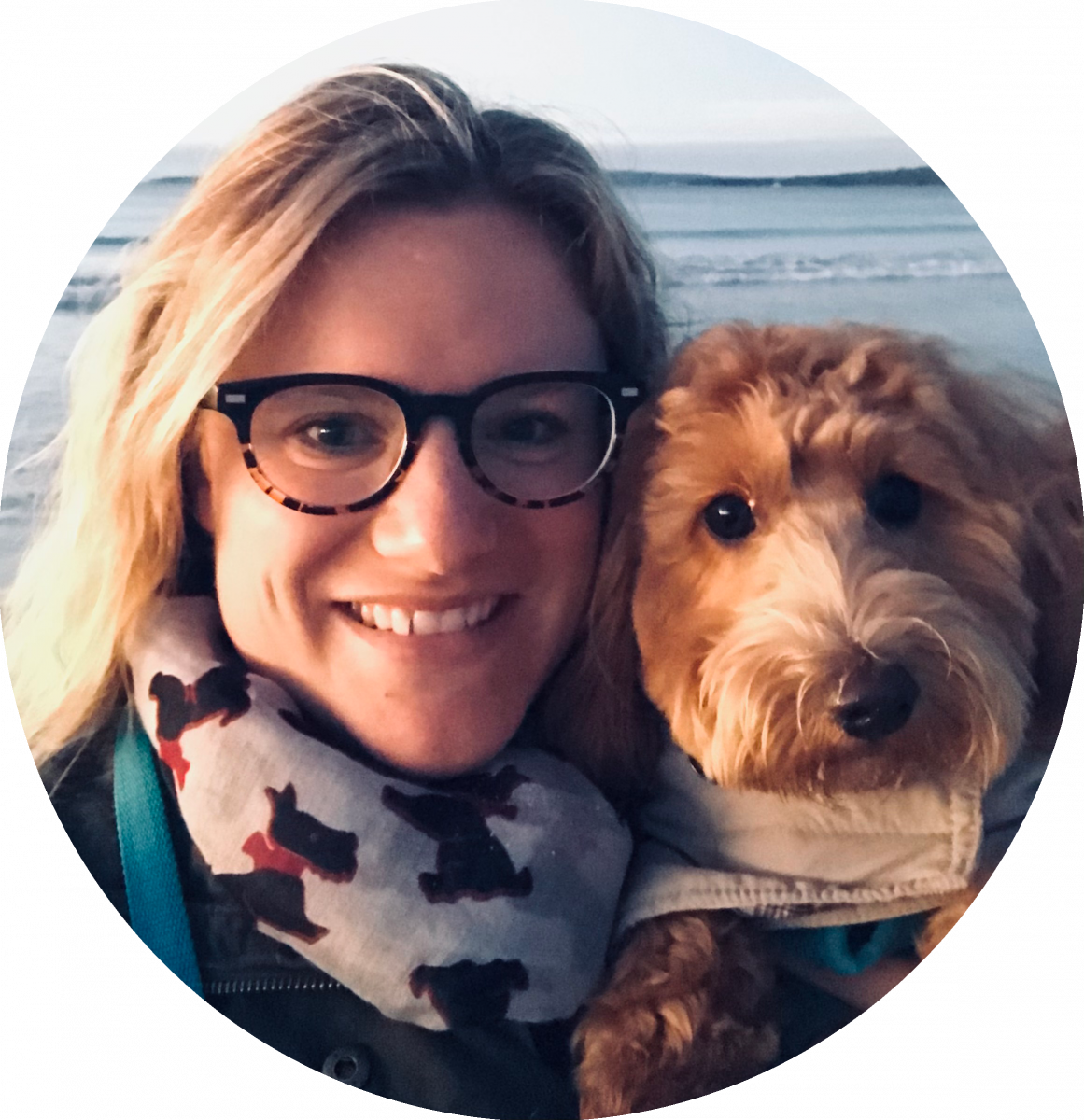 Catherine Woodcock VN/Dip ECC/RVN
Veterinary Liaison Manager
We are pleased to introduce Catherine as Fourlimb's first Veterinary Liaison Manager and, being based south of Sydney, also our first regional staff member.
Catherine started her veterinary career as a Vet Nurse on the south coast of NSW in a mixed practice. There she learnt much about animals large and small, although she has always had a love of animals growing up with chickens, rabbits and the neighbour's cat who would often visit. Her true love, however, came in the form of a puppy Cavalier King Charles Spaniel for her 18th birthday. Since that day she has devoted her life to nursing the many sick and injured animals that came through the clinics' doors.
Throughout her career she has worked with some of Australia's top Veterinary Specialists and cared for hundreds of precious furry friends. Her passion has always been surgery and she has spent most of her nursing career in Sydney in various specialist hospitals including the Sydney University Veterinary Teaching Hospital. In 2019 she took her passion overseas and worked in the UK at Fitzpatrick Referrals. She returned to Sydney just in time to miss the first COVID lockdown.
After more than 13 years of clinical nursing, Catherine has decided to use her experience in a different capacity by joining the team at Fourlimb. Her aim is to assist and support Veterinary Surgeons to perform at their best to help optimise outcomes for their patients.
Catherine currently enjoys coastal living with her Cavoodle Basil. They love beach walks, family time and soaking in the natural beauty of the local area.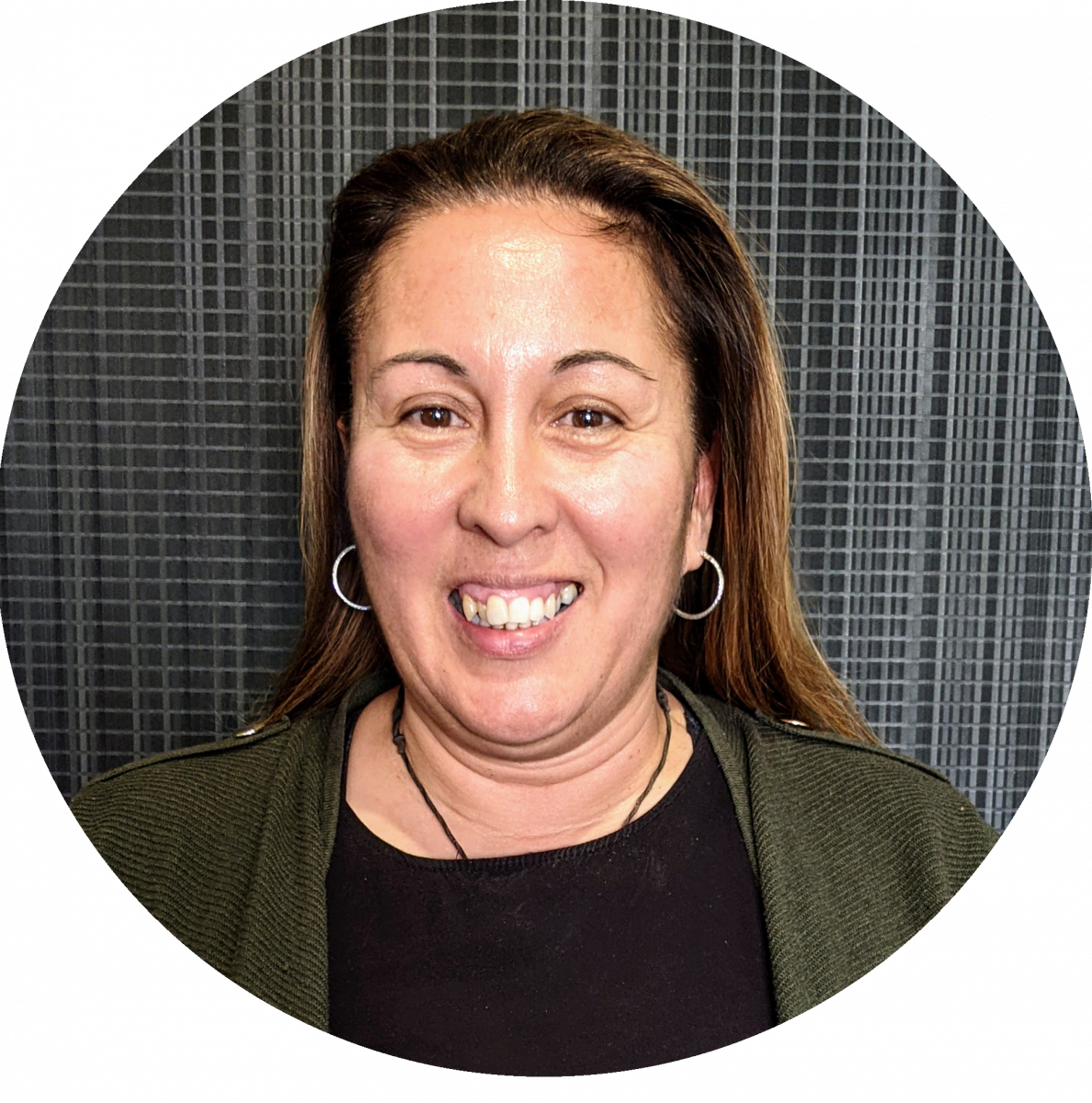 Lenyss Teaia BEd
Customer Service Administrator
Lenyss Teaia is a team player in every sense of the word. Be it in the office or on the netball court, Lenyss is focused and always works to achieve goals for the team!
At Fourlimb, we feel very fortunate that Lenyss made the decision to move from Melbourne to Mandurah in early 2021. Her immediate family brood consists of 1 husband, 4 children plus a golden labrador-retriever, a budgerigar and a cat. The WA mining industry brought her and her family to the State and she brings to Fourlimb, four years' experience in the processing and dispatch of medical supplies. She also has a wealth of experience working in State Government and local council positions as well as in private and community not-for-profit organisations. With over 15 years' experience in customer service and more than a decade working in office administration, as a Fourlimb Customer you're in very capable hands with Lenyss.
Her main responsibilities are processing orders, stock management and Customer accounts. She also gives Sebastian a run for his money in office ping-pong tournaments!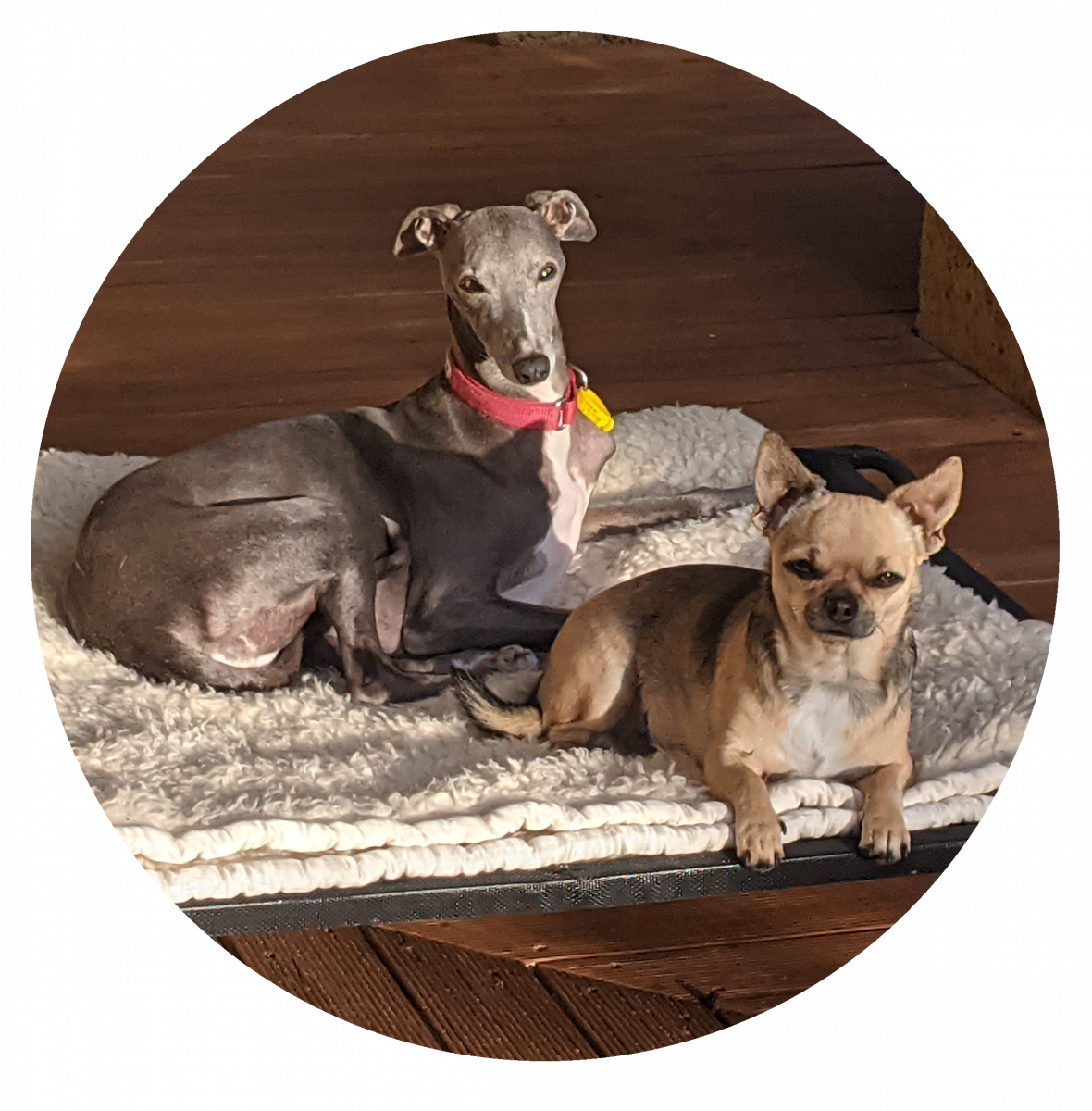 Winnie and Taco
Winnie the whippet and Taco the chihuahua are good buddies belonging to the Menzies family. They take it in turns to visit the Fourlimb office and occasionally compete for coverage on our social media pages. As the younger of the two, Taco exudes fun and enjoys excellent health. He has a very strong den instinct and takes all his found treasures to his beloved bed. He was born with just one dewclaw which our daughter fell in love with and has refused to allow Sebastian to remove.
By contrast, Winnie has a stately cat-like presence and stuns folk with her architectural body shape. She uses ninja stealth to sneak onto couches and beds and refuses to lie on bricks or spikey grass. Unfortunately she has suffered from meningitis-arteritis from an early age. It is a steroid-responsive condition and we figure she has found the right family with Sebastian as her Dad Vet.