Low Profile SOP™
The original SOP™ system from Orthomed has been used globally for over ten years and is supported by a plethora of published data.
By public request, Orthomed have developed and are now pleased to launch a smaller, low profile system to allow easier placement in particular on smaller patients.
This new plating system made from titanium alloy uses new, dedicated screws and instruments, whilst incorporating SOP™ technology but with a lower height profile to existing SOP™ plates.
The SOP Low Profile plate is designed to be very versatile and it is indicated to be applied to any bone. The 2.0mm plate has been applied to a wide variety of fractures in canines and felines with single plate fixation in long bone fractures up to 7kg and double plate fixation in cases up to 10.5kg.
The smallest case to date is 1.8kg.
INDICATIONS
Humeral Fractures
Unicondylar (Fig1a & 1b), bicondylar (Fig 2a & 2b), supracondylar
and diphyseal fractures.
Radius and Ulna Fractures
Single plating of the radius (Figs 3a & 3b) or double plating radius and ulna.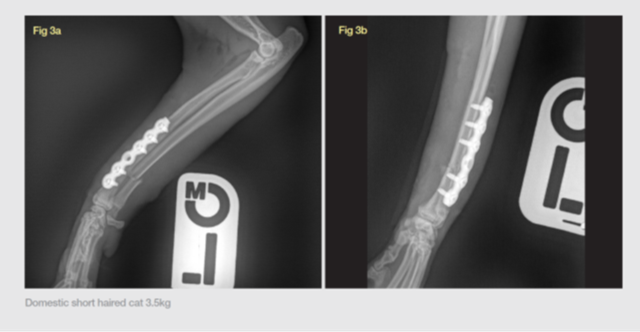 Tibial Fractures
Single medial plating, SOP-ROD or orthogonal plating.